You are visitor number: 12818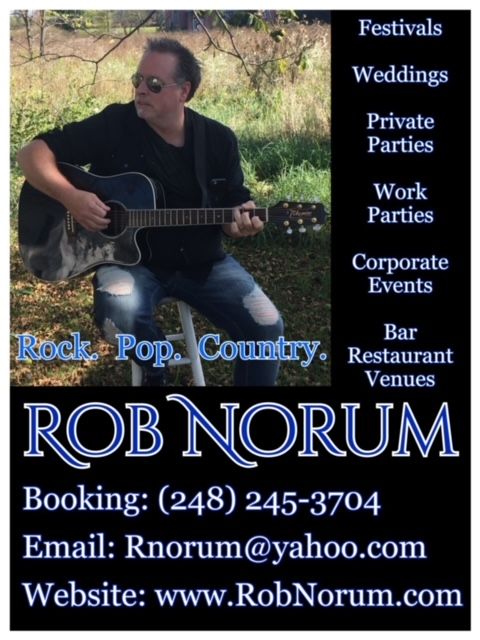 About Me:
As a soloist, Rob Norum has proven himself to be a progressive musician who simply reads the crowd and plays the songs they love!  Time and again, he has received compliments from ALL ages and for ALL genres in which he plays.   
Whether it's a wedding, a private party, a corporate event, or a bar/restaurant venue, Rob Norum leaves the crowd asking for more. 
Don't take our word for it.  Check out the "Review/Comments" tab above and see what the audiences are saying. 
Rob Norum has been honored to play many great local bar/restaurant venues and private clubs including:

Crescent Lake Inn-Waterford
Bakers Of Milford-Milford, MI
The Comback Inn-Highland, MI
Pak's Backyard-Port Austin, MI 
Ironwood Grill-Plymouth, MI 
Thee Office Pub-Romeo, MI
Draughthorse Brewery-New Hudson, MI
The Hamlin Pub-Rochester, MI
The Glengary Inn-Walled Lake, MI
Uptown Grille-Commerce, MI
The Cooley Lake Inn-Commerce, MI
Oakhurst Country Club-Clarkston, MI
The Belleville Yacht Club-Belleville, MI

...just to name a few.
Rob Norum has also played for...
The Ann Arbor Street Art Fair
Weddings @ The Gem Theatre
Cadillac Square @ Campus Martius Park
Main Stage @ The Lapeer Days Festival
The Birmingham Farmers Market
The Clarkston Farmers Market
Suburban Showplace-Shriners Sportsmen's Raffle 2014-2017

Rob Norum has a powerful energy with respect to musical dynamics. He will bring a catered setlist to satisfy various time slots to please the early evening dinner crowd and/or the late-night high energy audience
He's always adding new and different music to the show as well as writing and playing his own songs, ranging from modern/alternative pop/rock to country.  Over the years, he's taken crowd requests to heart and have made those great songs into his set lists because he prides himself on crowd pleasing, good music!
Cover songs can be found under the Song List tab above and include a variety of classic to current POP/ROCK/COUNTRY, mid tempo, and upbeat hits and favorites of the 60's, 70's, 80's, 90's, and now from artists like:
Matchbox 20
Prince
Chris Stapleton
The White Stripes
Luke Bryan
Kid Rock
Pat Benatar
Creedence Clearwater Revival
Eric Church
Toby Keith
Zac Brown Band
Foo Fighters
Lady Gaga
Jimmy Eat World
Tom Petty
Darius Rucker
Johnny Cash
The Beatles
4 Non-Blondes
Van Morrison
Keith Urban
Kings Of Leon
Uncle Cracker
The Eagles
Kenny Chesney
Imagine Dragons
John Mellencamp
Bon Jovi
The Goo Goo Dolls... 

...and SOOOOOOO many others!!
For Booking:      (248) 245-3704     Email Me Here: rnorum@yahoo.com